Had bob and his son from Michigan stay for a weather break to get offshore and it ran into a trip Tony Nelson had planned. Seeing tony is in for 3 days they teamed up to split the trip today. We got an early start and found clean beautiful water for wahoo. I set out lines but did not mark anything. Other captains were trolling the many nearby rigs with the same results. Instead of wasting time there I picked up and ran to the lump to spend the day. Tony wanted wahoo but that was out of the picture for today.
I set up on a spot that looked good and we were into bonito right away. The seas were calming down all day so things were looking good. It was soon evident things were about to get better.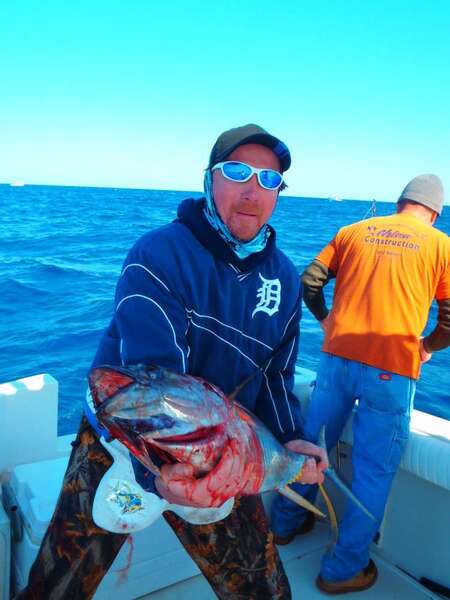 We had a small yellowfin in short order and picked up a few blackfin. We managed 2 hog amberjack and another yellowfin. Suddenly a big blue marlin over half the size of my boat starts hanging in my chum slick. I had nothing to get him on but he kept hanging out under the boat. Then 2 more come over to join it. These 2 were not lit up. I have never seen 3 marlin together. Only one was lit up and it finaly nailed our line. Start chasing it. We had it on for about 7-10 minutes but a 5-6 hundred pound marlin quickly chaffed the 60 poung leader we had. It never jumped but it did roll on the surface a bit. After the excitement settled down we went back to filling the boat. Bob wanted kings and we put 2 for them in the box for him. It had to be luck because they were caught on momo straight to the hook. We had our usual lump type of day tying hooks and getting pieces of tuna.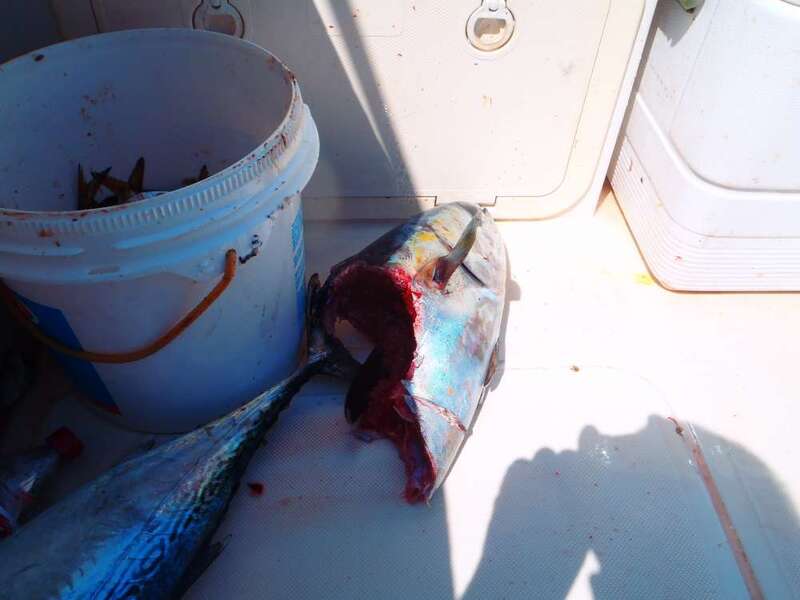 Tony jigs up a blackfin and goes down again. This strike is much different and I told him I think that was a wahoo The 2 assist hooks are bitten off. I put on a single hook and he goes down again. I was shocked to see him hook up and bring in a wahoo. Happy with that and taking a break from jigging he goes back to chunking. He and Kaden hook up at the same time. Sometimes a tuna will take 2 baits and both fishermen will havethe same fish. This time they were 2 big fish. Not tuna but that made our limit of amberjack These were a little smaller than the first 2 but we limited out on them.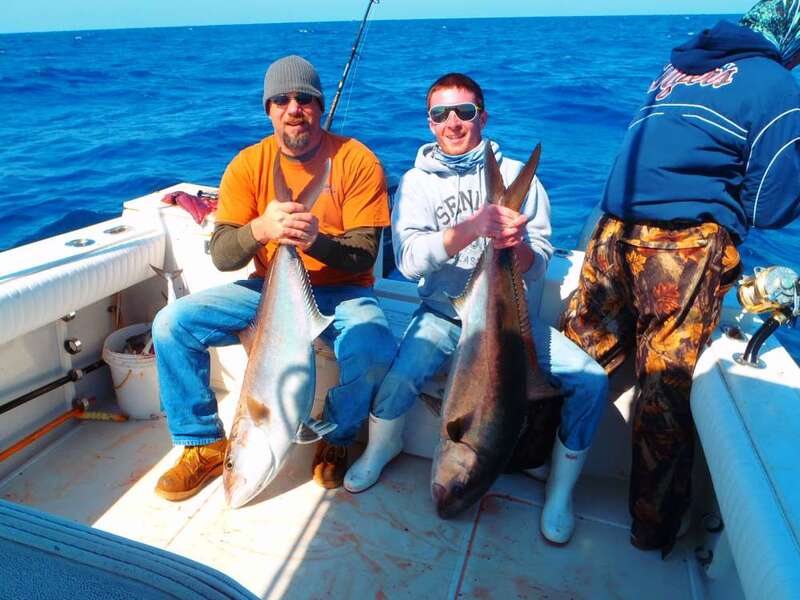 We were also bothered by rainbow runners for the last 2 hours of the day. Near the end of the day we picked up our third yellowfin.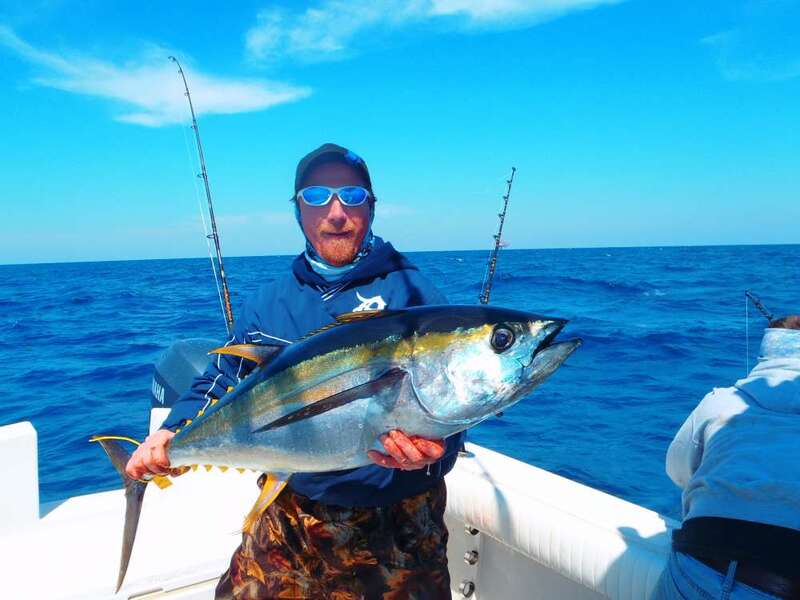 I did not bring enough ice for our fish today so I had to make a slurry to keep them cool. About 2:30 we had a box of fish and we were headed to the barn. By the time I got in all were packed in ice. I let them get sloshed around and settled in the chill water then pump the water out. They pack in on the bottom and all the ice is around them and on them. I will try to get a picture the next time I do this. Works well.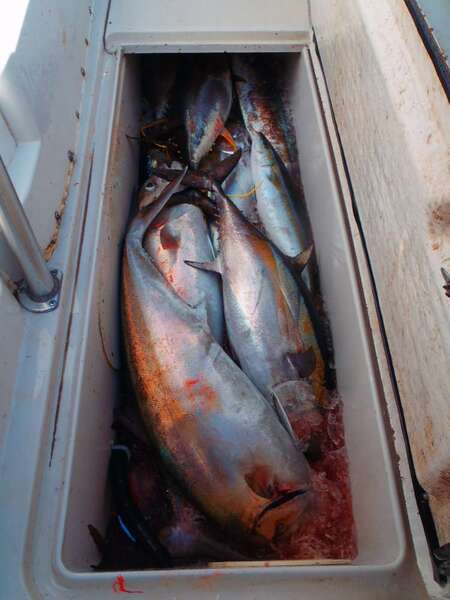 The seas had calmed quite a bit and the ride in was good although quite cold once near the river. We ended up with 3 yellows, 5 & 1/2 blackfin, 4 amberjack, 2 kings, and 1 wahoo. Hooked and caught a lot of bonito, rainbow runners, sharks, and the best of all was the Blue marlin.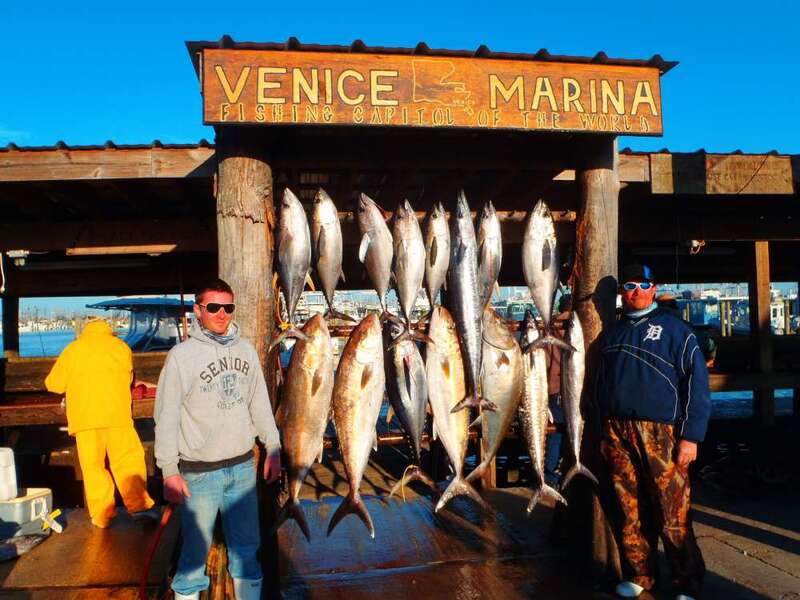 Although nothing big it was truly a day to remember.
Life is Good!
Fishing is not a matter of life or death. It's more important than that.
CAPT HOOP -- OUR FREEDOM