The summer is upon us. The smaller tuna are getting more common. This is nice because it does not hurt the angler when they try to overpower the fish.
To say this was an aggrivating day would be an understatment.
Instead of hitting Elf I decided to run out about 45 miles. Elf has been turning off very early in the day. My decision was a very good one so I thought. As I was approaching the rig we had 3 boats fishing, the fish were busting all over and everything was looking good. I slowed up quite far out from the rig and other boats in order to get things set up. As I was putting the first bait in the water it got hit about 20 feet from the boat. What a great way to start off. The rookie from Oklahoma gets his first chance at a fish bigger than a bass.It is not long before I stick our first of the day.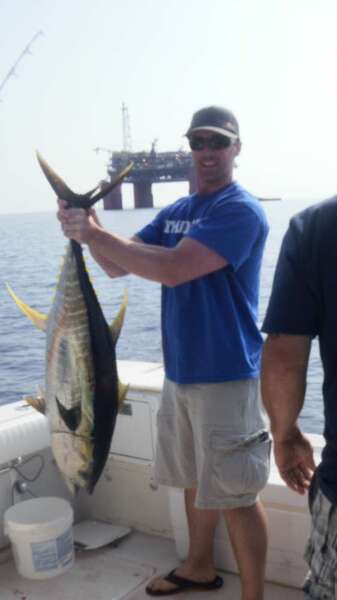 The other guys are talking about nothing happening. With fish busting all over we were casting all day long. Nobody could get anything to take a popper even when they hit the tuna on the head. seems they are eating tiny tinker mackrel no more than 2 inches long. After a few antagonising hours of casting to jumping fish we get one of them to get stupid and the fight is on. This is a much bigger fish. I saw it hit the popper. It felt good to stick this nice 80-90 pounder. A nice fat fish.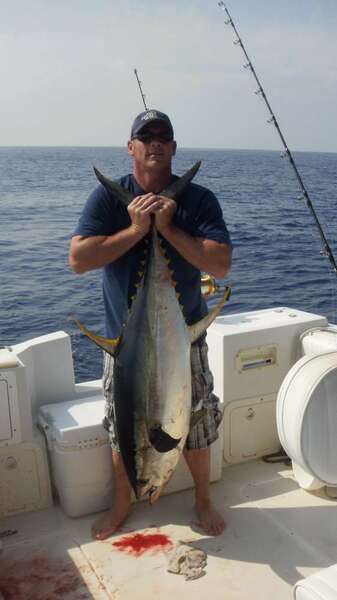 We are getting a few short strikes but nothing jumping on our bait hard. Just hitting the bait around. Went to chunking and got sharks and rainbow runners. Back to live bait and pick up one more yellowfin. That mark is a cookie cutter mark not a bad gaff shot.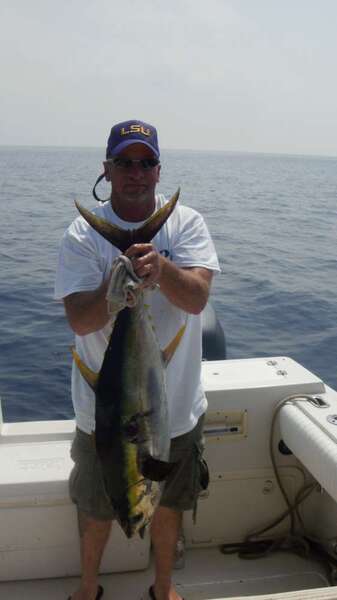 It is time to change tactics. Working our way in we troll around a rig that was dirty the day before but now had good water. Pick up a bonito only to have a cuda nail it before we could get it in the boat. Another pass we get a strike and a miss. I change direction with nothing happening. Come back the same way and we hook up. Another treat. WAHOO! A few more passes with nothing so on we go.
It is getting late in the day so I try for amberjack. First one gets in the rig. Guess what we stumble across.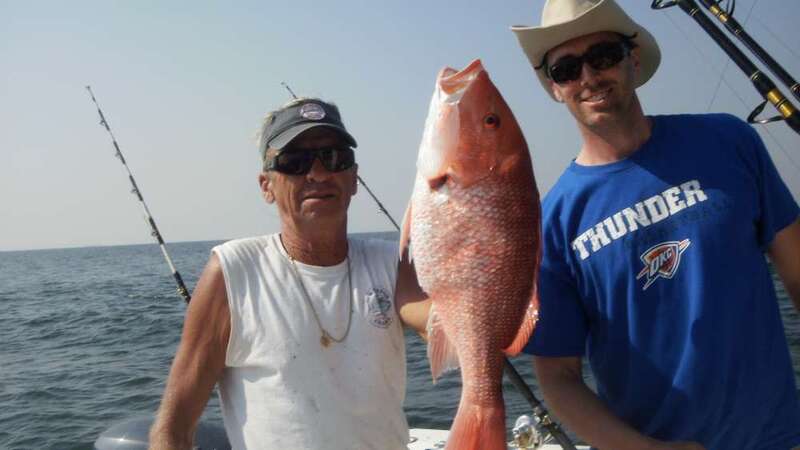 Wait till the season opens on this rare overfished underprotected creature. Did manage one amberjack. We also found a pair of scamp grouper that wanted our offerings. At the dock we had a good day compared to most of the rest of the guys. The conditions were the same all over.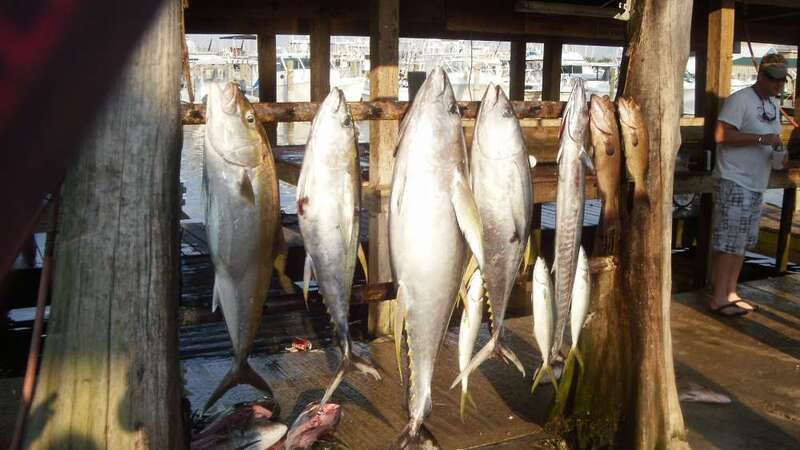 Life is Good!
Fishing is not a matter of life or death. It's more important than that.
CAPT HOOP -- OUR FREEDOM