Yesterday we had fog all day. This trip was trying from the begining. This was the first time I had run this boat. It was a 31 Americat so that made things a lot better. Those boats are fast and smooth. The trip was set up for nearshore fishing. We left Venice Marina and went to Cypress cove to get the customers at 6:30. As we were waiting for the fog to lift a little I got the feeling these guys were dissapointed because they were expecting tuna. I made the decision to change things a little bit. I told Mitch we were going back to Venice Marina to get more ice and bait and then we were going long. With the fog so thick I did not want to stay near shore anyway. By the time all this slow moving around in the dense fog was done it was 8:00. We ran red pass out. I bumped a point in the pass but that area is common. The mud shifts there a lot. Someone attempted to run tiger and ran aground. He sat in the mud for a while. NEVER, Never run tiger in the fog!!!
Our run out through the rollers and chop was a fast 36 mph so we made it there about 9:45 The visability way out at 143 was still only about 4 miles. Once past 143 the lump was clear. We trolled 143 and got a hit on the first pull.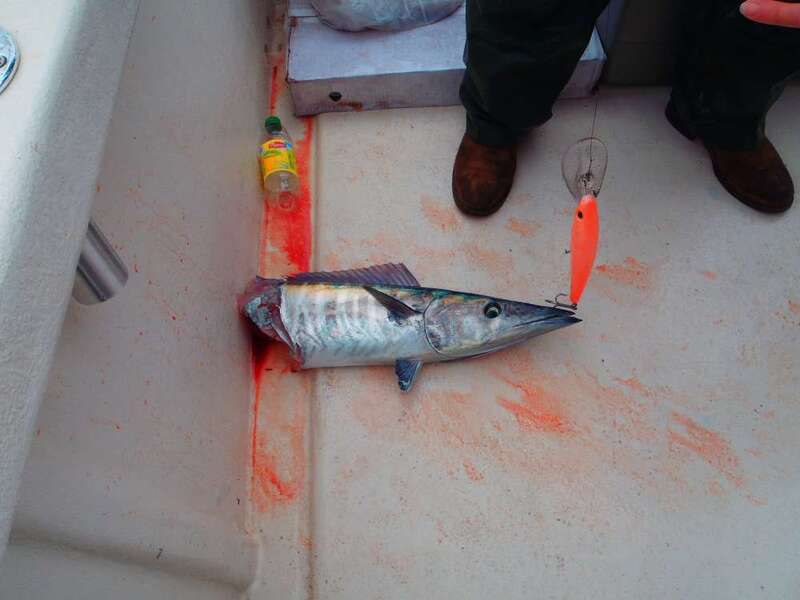 A cuda or shark wanted breakfast. I guess it scared all the others because that was the only strike we could get. On to the lump we set up and started a drift. The boat is so big and has so much room we were able to run 3 drift lines and drop down 2 for beeliners with very little trouble. On the first drift we pick up and bring in a peanut yellowfin. Good start.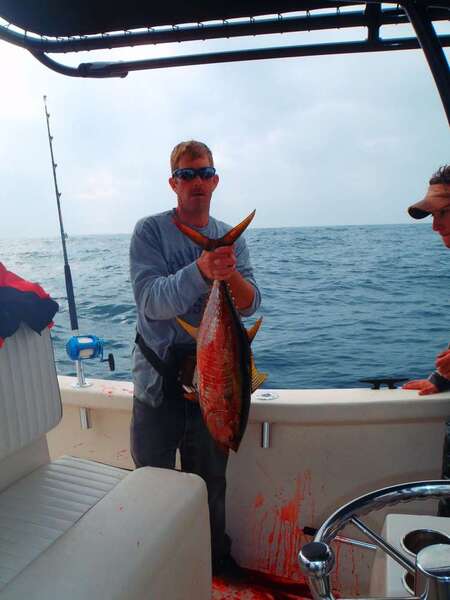 The bonito were easy this time so we had plenty of bait. We put up with the kings and sharks but one of them did not get away. This guy could win almost any SKA tournament.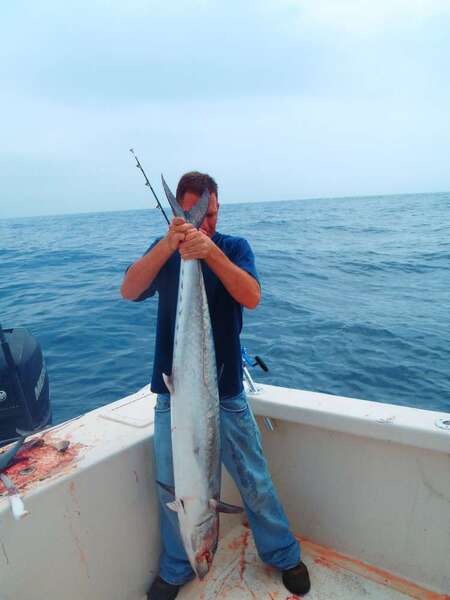 There was one guy that had the most luck. He was getting hit on almost every set. He had fun landing this beauty. It made him realise the shape he was in. It does not look it but he is useing both hands and arms to lift this fat boy.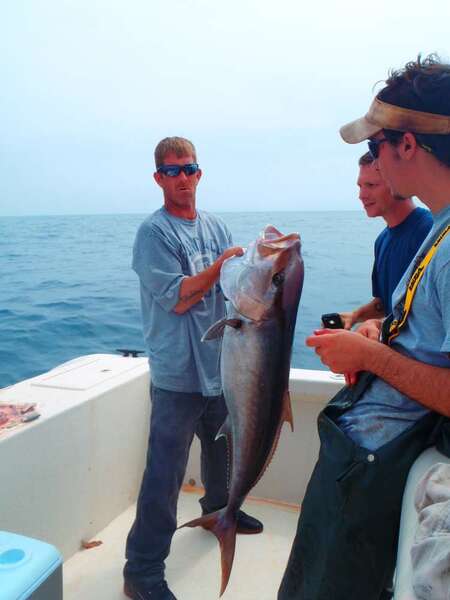 Of course the endangered, over fished ones were also out looking for food and we had food to give them. After a picture and venting they swam all away. We did get a few of them.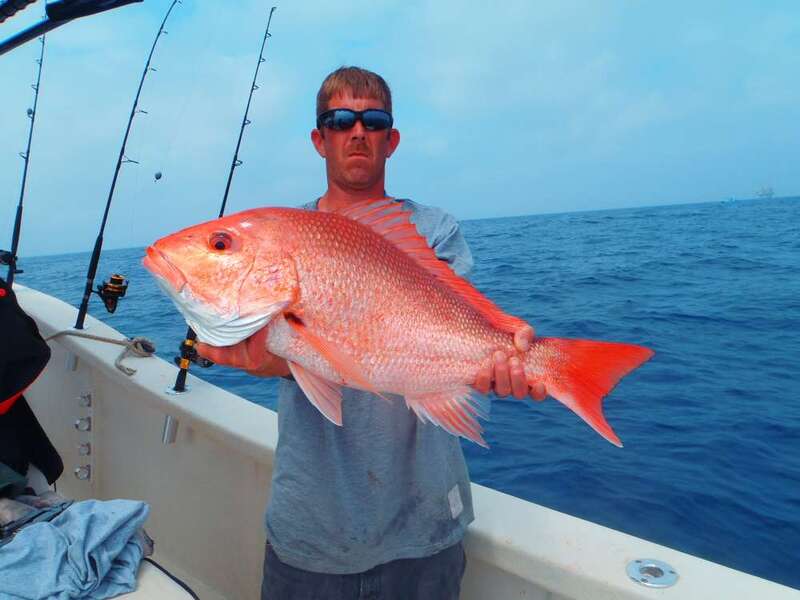 We only managed one beeliner for all our bottom dropping. A lot of bites but hard to hook up. Reds were no problem.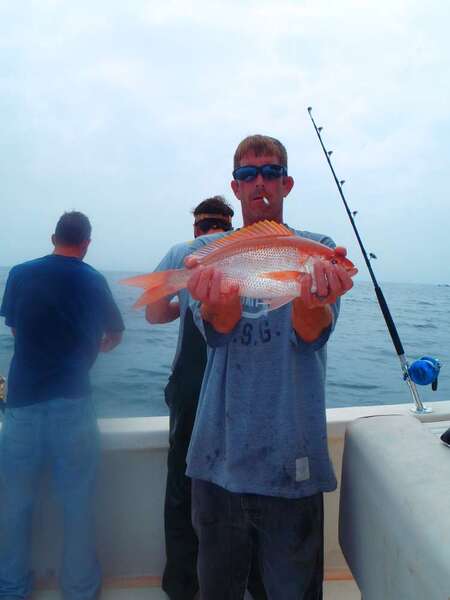 On the way in we left early to see if we could find some lanes or other nearshore fish. This is not the norm for a tirp but I already had the equipment on board and the bite at the lump had died. We only had time to hit a couple of spots but were able to pick up a couple of very nice croakers.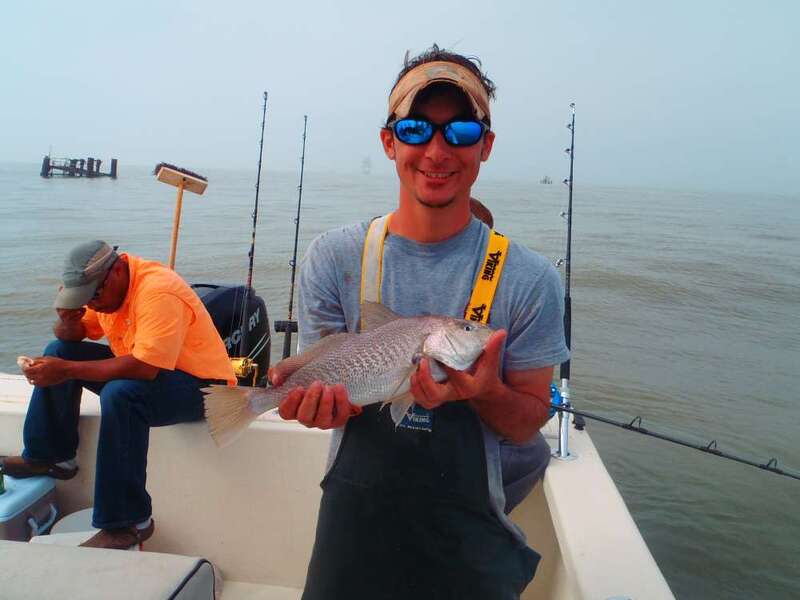 On the way in I hit a thick fog bank just before the sand bar in front of Joseph Bayou. I followed the Garmin chart and radar to snake through the maze there in very shallow water. This boat had no marks or tracks like my boat does so it was all up to me and my knowledge of the waters I was in. Once in the bayou I was able to open up to the river then fog again. The east side was solid but the west side was better. Fog is COLD!! Running on radar and following the west bank I was able to run about 37 mph except where the diversion work is going on. At the Cypress Cove Marina I felt a bit more relaxed.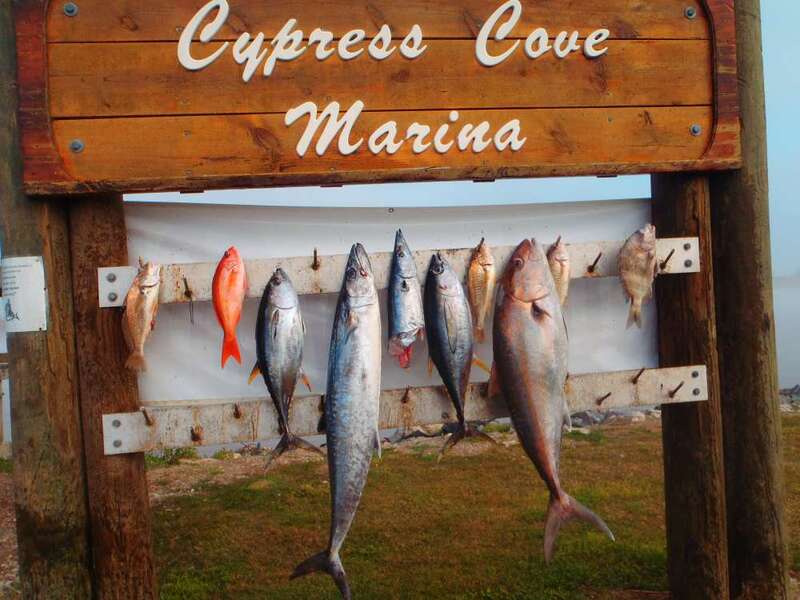 While cleaning the fish the fog got thicker and the ride back to the Venice Marina was solid white and 100% electronics. Glad that day was done and it all ended well.
Life is Good!
Fishing is not a matter of life or death. It's more important than that.
CAPT HOOP -- OUR FREEDOM